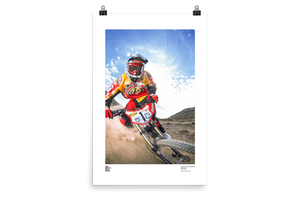 Peaty, World Cup Champ - Mike Rose
In 2002, Steve Peat finally won the World Cup Downhill series; the celebrations after the last round in Les Gets were legendary. Fast forward four weeks and I found myself at the Interbike trade show in Las Vegas and who should show up? Steve Peat.
I needed a cover shot for Dirt Mag, something a bit different to just a standard race photo. We hatched a plan and ended up driving out to some random spot in the desert to a big, drifty, sweeping corner at the side of the road. I shot a couple of rolls of film, Peaty happy to keep going to get the shot. Of course, there was no checking on whether you'd got the shot back then, you either had it or you didn't. I shot on a 200mm lens for a while and then switched to the fisheye with a bit of flash. We ended up using the long shot on the cover of Dirt #36, but I kind of think I like this 'in your face' version more now.
After the shoot we carried on driving out to Utah for the Red Bull Rampage — two big blokes crammed into a tiny sports car with a bike in the back! That was the second year of Rampage and Steve managed to qualify for the main event, but he decided to miss the finals and instead head back to Vegas to watch the Supercross. Ha. Forever the pro!
---
We Also Recommend