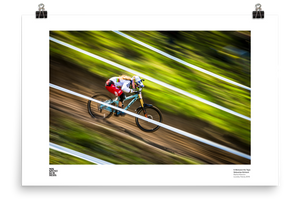 In Between the Tape - Sebastian Schieck
We are in Lourdes, France, for the first World Cup race of the 2016 season. After winning last season's World Cup overall and World Champs, Rachel Atherton is undoubtedly the woman to beat this weekend and she is sporting the number one plate on her bike. A target that is fuelling the motivation of all the other riders. Focusing everyone's dedication to close that gap and eventually go even faster to claim back that number one spot at the top. So, the question for everyone is, will Rachel would be able to continue where she left off at the end of last season?
In racing your skills, fitness, determination and experience are all essential factors to success. But, in the end, your ability to perform between two lines of tape on that one run that counts during the weekend is absolutely key. By that measure, Rachel Atherton is undoubtedly one of best downhill riders we have ever seen; her unearthly skills will once again shine on Sunday afternoon as she takes yet another win in the foothills of the Pyrenees.
After taking the top step on that first race of the 2016 season, Rachel went on to win every single race that year. A winning streak that would finally culminate in Lourdes, at this very place, in 2017 with her 16th consecutive elite race win. Atherton's endless victory spanned three seasons and two World Championships, a feat unmatched in downhill history.
---
We Also Recommend